---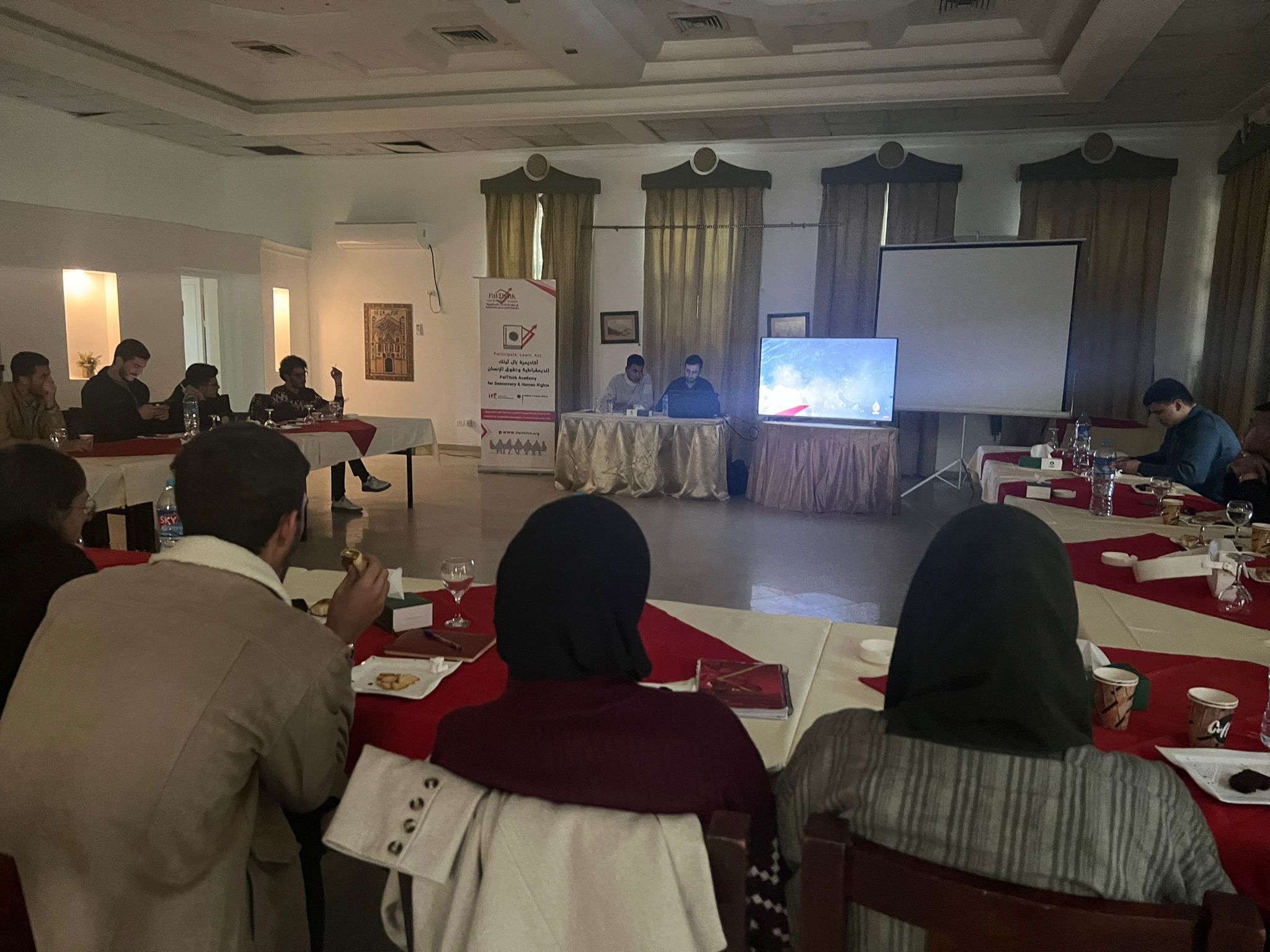 PalThink for Strategic Studies held Wednesday a film screening and discussion session of Al-Jazeera's "Gandhi and the Power of Will" documentary, as part of the activities of the "PalThink Academy for Democracy and Human Rights" project, supported by the German Federal Foreign Office's funds by ifa's (Institut für Auslandsbeziehungen) Funding Programme zivik.
The session, which comes within the framework of PalThink's work as an independent think tank that promotes dialogue in the Palestinian society, was attended by more than 25 members of the Democracy and Dialogue Forum.
The session was opened by lawyer at PalThink Bilal Al-Najjar who welcomed the attendees and talked about PalThink's role in raising the awareness of the younger generation about the principles of democracy, human rights, and non-violence.
Forum member Abdul Rahman Ismail facilitated the sessions. He spoke about the role of films and documentaries in raising the society's awareness and bringing about change. Afterwards, he presented an overview of Gandhi's life and his global influence by focusing on restoring civil rights through protests, strikes, and civil disobedience.
The documentary presented the early life of Mohandas Gandhi, as he was born in 1869 to a rich family before he moved to England to study law. He began his struggle for civil rights in South Africa, and one of the most important landmarks of his struggle was against a law that denied Indians the right to vote.
The documentary discussed Gandhi's adoption of the concept of "Ahimsa"—which means respecting the life that exists in all things—and of new ideas that became a part of his daily life, such as fasting and chastity.
According to the documentary, Gandhi had been influenced by the struggle of British women for the right to vote, and so he adopted the principles of non-violence, civil disobedience, resolutely and publicly rejecting violence, sometimes illegally, but never committing it, and accepting the consequences of it.
Gandhi returned to India in 1915 and established the "ashram", a monastery in the Indian civilization, where he trained his students and followers on the principle of non-violence. Meanwhile, his followers began calling him "Mahatma", meaning the great spirit.
The documentary showed the methods Gandhi used to resist the British occupation of India, on top of which were strikes and protests, most notably the Salt March, where Gandhi and tens of thousands of Indians traveled a 400,000-kilometre march.
After the end of the screening, a discussion took place among the attendees on how to draw conclusions from Gandhi's experience to promote the principles of dialogue and non-violence in the Palestinian territories. The audience also talked about the similarities and differences between resisting the British occupation in India and resisting the Israeli occupation in the Palestinian territories.