PalThink Academy Young Trainers Organize Workshop on Enhancing Democratic Awareness in the Palestinian Society
---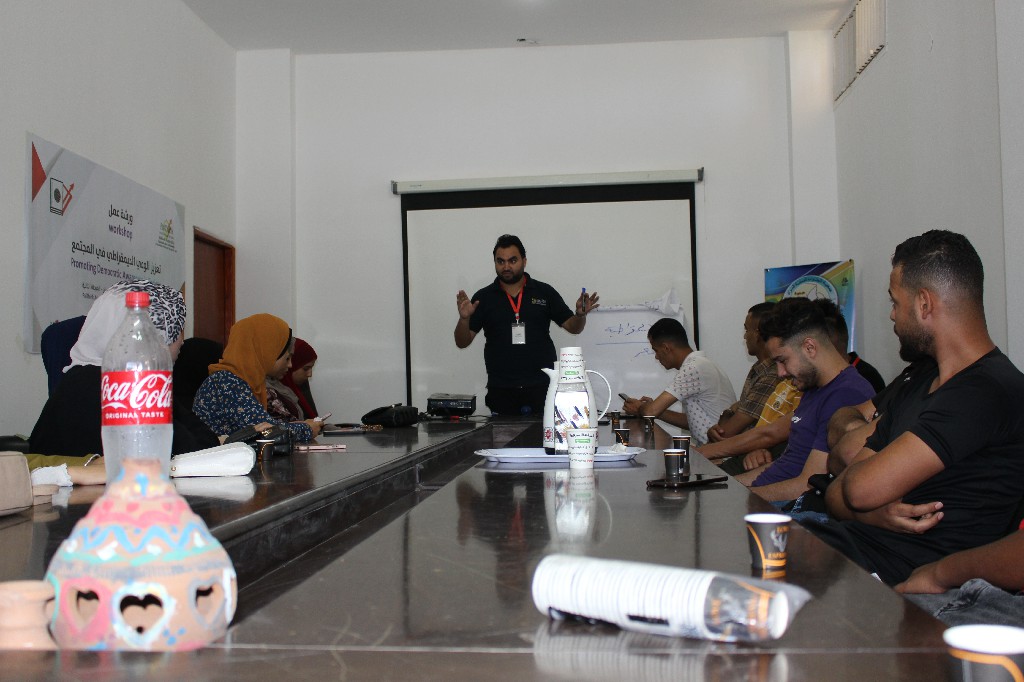 PalThink Academy for Democracy and Human Rights trainers have organized a workshop at the South Aljenoub Society for Women's Health in Rafah, entitled "Promoting Democratic Awareness in Society", as part of the "PalThink Academy for Democracy and Human Rights – Phase II" project, supported by the German Federal Foreign Office's funds by ifa's Funding Programme zivik.
The workshop was opened by the young trainer Rawan Al-Khatib, welcoming the attendees. She introduced the project and explained its main objectives. She then outlined the workshop's concept and its aim to enhance the concept of democracy in the Palestinian society, especially among the youth, emphasizing the importance of spreading democratic awareness.
Trainer Mahmoud Al-Faqawi facilitated an ice-breaking activity to break the ice and build bridges of communication between the attendees and the trainers. Following this, concepts of democracy and its core values were presented, along with their applications in different political systems.
The trainers highlighted the significance of citizens' participation and their impact on decision-making. They elaborated in detail on the concept of citizenship, discussing citizens' duties and rights. They stressed the importance of active participation that enhances the respect and implementation of human rights and fundamental freedoms in the society.
Trainer Mohammed Hussein discussed the fundamental rights and freedoms that individuals enjoy in a democratic system. He explained in detail the key rights that citizens should have in a democratic system, such as the right to freedom of expression and opinion, the right to work, travel, and mobility, respect for religions and beliefs, the right to health, receive medical treatment, the right to education, and the right to peaceful assembly.
The workshop concluded with an interactive activity that reinforced the concept of democracy and awareness among the youth. It also opened the floor for discussion between the trainers and the targeted participants. A fruitful interactive dialogue took place among the young participants, sharing stories and personal experiences.