ICHR launches its 27th Annual Report
---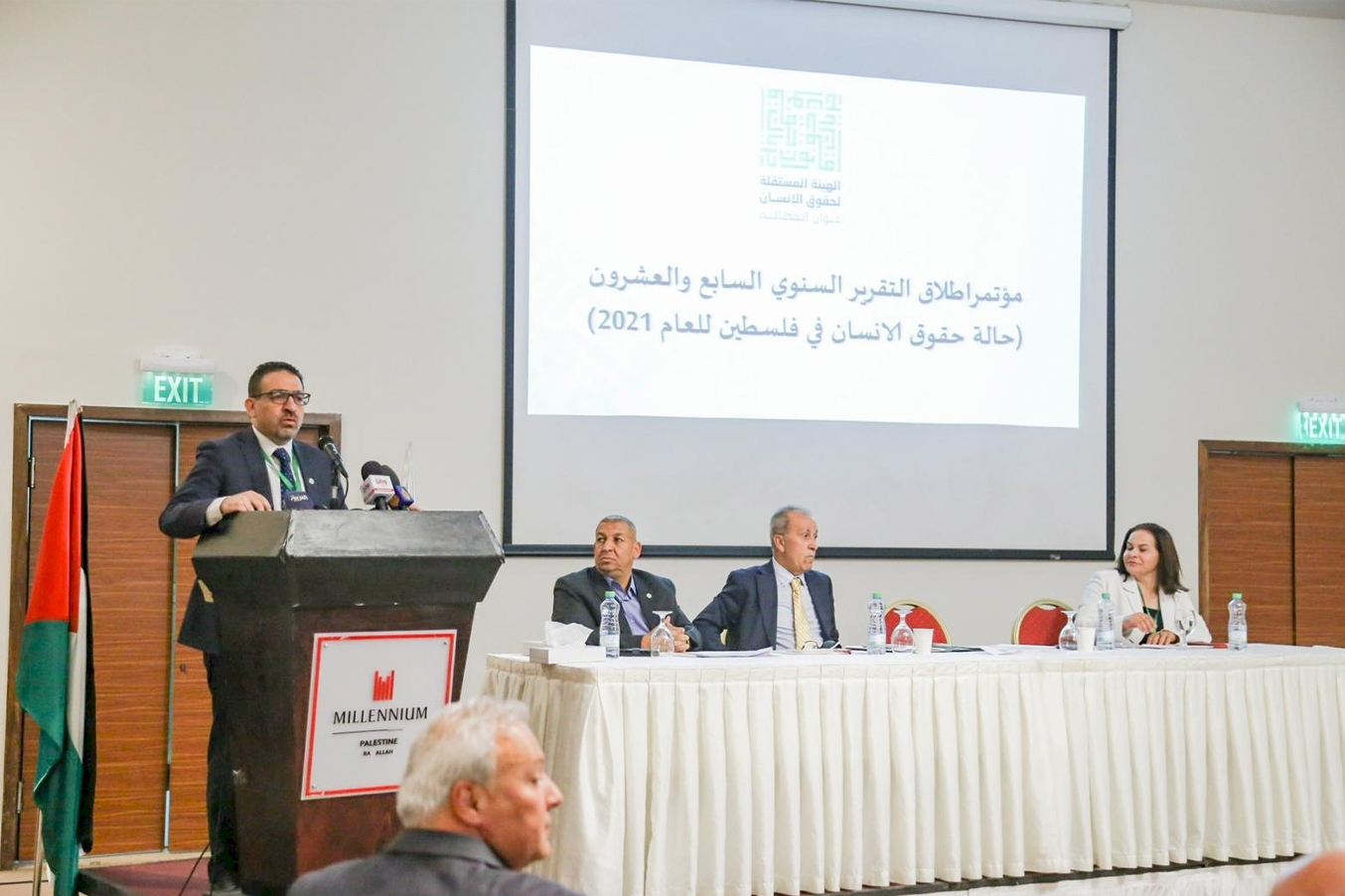 ICHR launches its 27th Annual Report
12 June 2022, the Independent Commission for Human Rights (ICHR) lunched its Twenty Seventh Annual Report (1 January – 31 December 2021) on the Situation of Human Rights in Palestine. The event brought together public officials, representatives of government bodies, donors consortium, civil society organisations, security agencies, Police, trade unions, media institutions, journalists, members of the legal community, and interested groups.
A press conference included talks by Issam Arouri, ICHR Commissioner General; Dr. Ammar Dwaik, ICHR Director General; Mr. Mousa Abu Duheim, Director of the ICHR Investigation and Complaints Department; and Ms. Khadijah Zahran, Director of the ICHR Monitoring of National Policies and Legislation Department. Dwaik made a presentation on the executive summary and highlights of the report.
Arouri presented a general framework for the situation of human rights during the reporting period. The Israeli occupying authorities have continued to pursue policies of forced population transfer and displacement in East Jerusalem and Area C. Israel has escalated policies of home demolitions, evictions, displacement, and obstruction, seizure and destruction of humanitarian initiatives and reconstruction efforts. Israel set a new record in terms of the number of donor-funded humanitarian projects, which it demolished and confiscated. The Israeli occupying forces (IOF) demolished 220 out of 906 buildings and structures funded by the donor community. In a single year during the past two decades, Israel displaced the largest number of Palestinians from their homes in Jerusalem. More blatantly than ever before, Israel targeted Palestinian civil society institutions and labelled a number of human rights groups and development actors as terrorist organisations. In the aftermath of a large scale military aggression, Israel has continued to impose a siege on the Gaza Strip and starve the Gaza population. Not only was it disproportionate and indiscriminate, the Israeli military offensive targeted residential buildings, commercial premises, towers, media offices, and infrastructure, claiming the lives of a considerable number of civilians, including entire families and a high proportion of children.
---
Download