---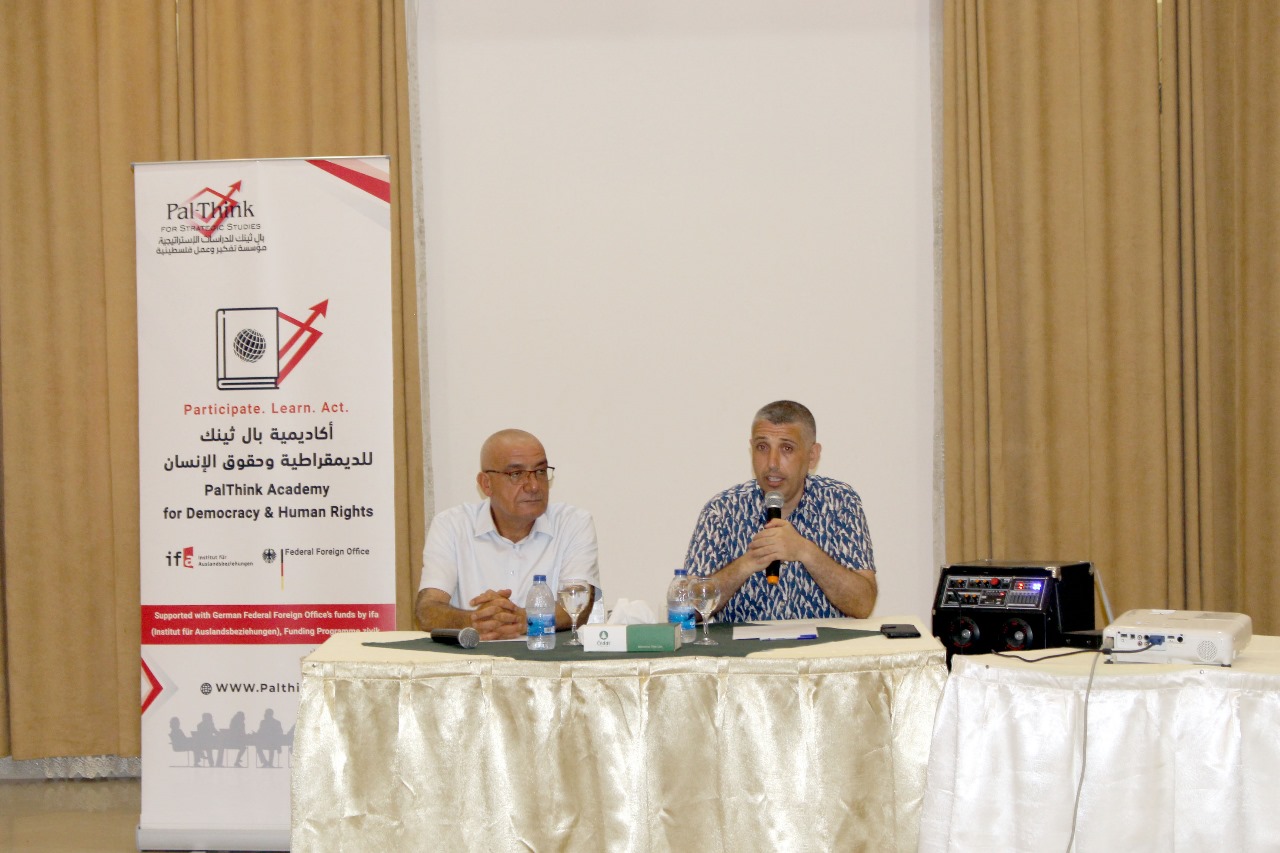 Gaza – PalThink for Strategic Studies has hosted Dr. Yasser Al-Ashqar, Professor of Law and International Relations at Dublin University, to discuss with youth his experience in "Learning and Working in Europe: Experiences and Lessons Learned," as part of the second phase of the "PalThink Academy for Democracy and Human Rights" project, supported by the German Federal Foreign Office's funds by ifa's Funding Programme zivik.
The meeting was opened by the Director of PalThink, Omar Shaban, who welcomed the attendees and the guest and emphasized the "significant role that PalThink plays in raising the awareness of youth by enabling them to meet high-level personalities whom they usually do not have the opportunity to meet."
Dr. Al-Ashqar expressed his delight to meet the youth and thanked PalThink for organizing it. He then talked about his journey, starting from his upbringing in the Nuseirat camp in the Gaza Strip, his studies at Al-Azhar University, volunteering at an international organization in Ireland, pursuing a Master's degree in Political Science in England, obtaining a Ph.D. in International Law in Ireland, and working as a professor of Law and International Relations at Dublin University.
He discussed his interest in the English language during his youth, which played a role in his personal success, which allowed him to communicate with various institutions and universities in Europe, providing him with opportunities for work and education. He encouraged the youth to follow the same path.
Dr. Al-Ashqar addressed the challenges faced by those aspiring to study and work in Europe, including the finding opportunities. He urged the youth to set their goals early, research, and communicate with institutions and universities, emphasizing the importance of networking and relationship-building.
He highlighted that one of the main challenges young people might face when traveling is cultural shock. He advised the youth to develop communication and negotiation skills, accept others, adapt to new environments, and maintain their identity while focusing on participation rather than assimilation.
Dr. Al-Ashqar emphasized that one of the key points for the youth is to identify their experiences and capabilities, building and developing upon them. He noted that the West values experience over credentials, stating, "Don't tell me what you possess, but what you can contribute."
During the event, the youth presented various questions and interventions, revolving around learning the English language, how to communicate with Western universities, and initiatives aiming to enhance dialogue and tolerance in Ireland through interaction between different parties.
Dr. Al-Ashqar concluded his talk by addressing various issues, including freedoms in the West, attacks from Israeli lobbies on Palestinian academics, the importance of professionalism in work, using logic in discourse and persuasion, and discussing racism towards Arabs and Muslims in the West. He indicated that such attitudes are individual behaviors and do not represent Western societies as a whole.