---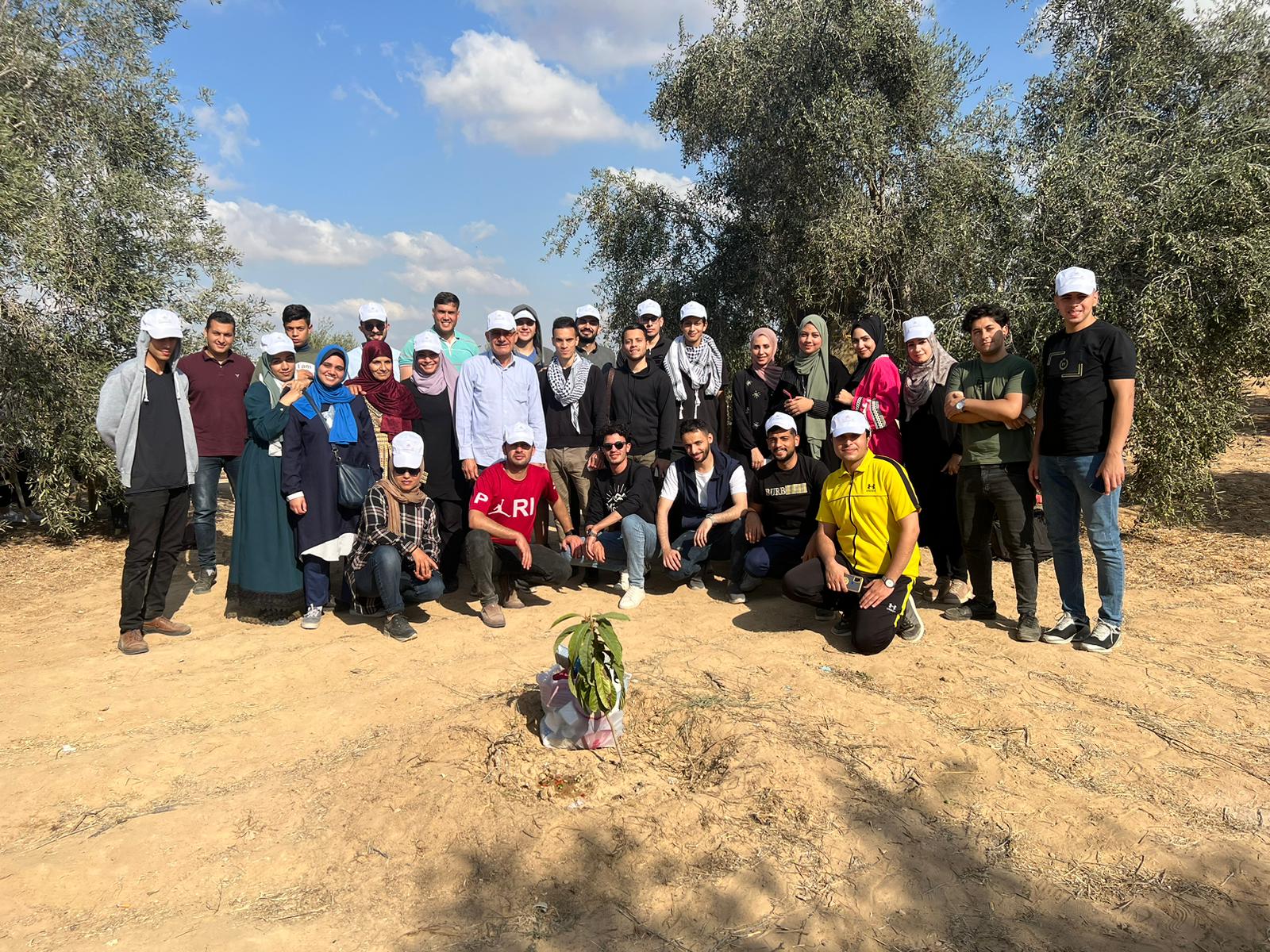 As part of its efforts to reinforce the values of cooperation and community participation among young people, PalThink for Strategic Studies gathered about 30 members of the Democracy and Dialogue Forum to help farmers east of Khan Yunis in an olive harvest event, as part of the "PalThink Academy for Democracy and Rights" project, supported by the German Federal Foreign Office's funds by ifa (Institut für Auslandsbeziehungen), Funding Programme zivik.
PalThink Director, Omar Shaaban, said in his speech that "The aim of this event is to support the resilience of Palestinian farmers in the border areas, where they face many challenges and difficulties, on top of which are the Israeli aggressions, climate change, and salinity of groundwater and soil".
The event included harvesting olives, preparing traditional dishes, and singing traditional Palestinian songs.
Palestinian farmer Wejdan Abu Tair (Um Ahmed) spoke to the forum members about the difficulties Palestinian farmers face in the border areas, saying, "These areas used to provide food for all of the Gaza Strip and export the surplus of its crops to some Arab countries. However, the salinity of water and soil and climate change have affected humans, animals, and trees here".
"The Israeli policies have greatly affected agriculture in the Gaza Strip from closing the crossings to destroying trees and agricultural facilities during the Israeli army's ground incursions in 2008 and 2014," she added.
Ashraf Sukkar, 25, a graduate of the Faculty of Law and a member of the forum, said, "It was a beautiful day. Helping farmers harvest olives emphasizes young people's attachment to their land and identity. Promoting the principle of community participation is part of PalThink's approach by involving young people in community activities that enhance their sense of patriotism and participation".
"Through the event, we were able to express our national and historical feelings, especially that the olive tree has been a symbol for Palestinians for thousands of years," Sukkar added.
For her part, forum member and IT student, Maya Hamid, 19, said, "I thank PalThink for organizing this very special event. We enjoyed harvesting olives, singing traditional songs, and preparing traditional dishes, and at the same time, this event raised our awareness about the suffering of farmers, who remain afraid of the Israeli army razing their trees and destroying their agricultural facilities".