---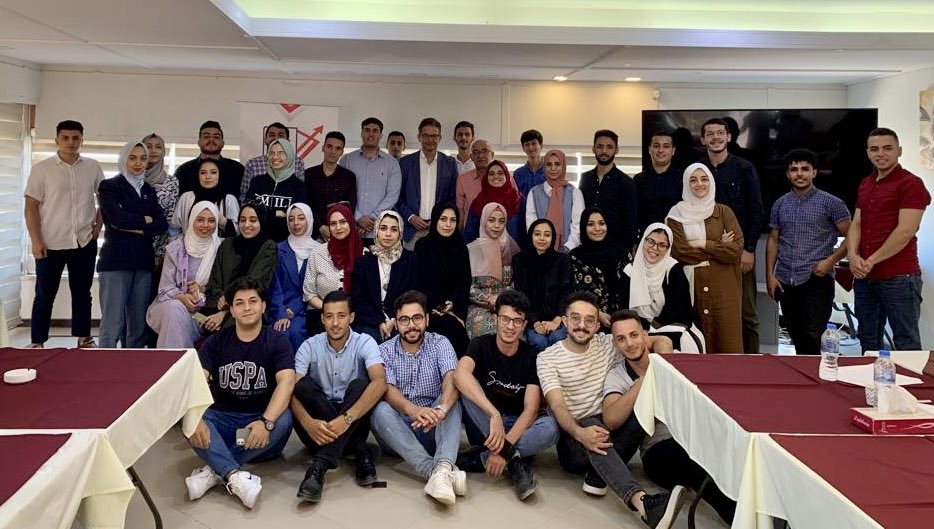 Pal-Think for Strategic Studies organized a session attended by the Head of the German Representative Office in Ramallah, Oliver Owcza, and members of Pal-Think Academy for Democracy and Human Rights, on Thursday 21 July.
This session is part of Pal-Think's continuous efforts to break the cultural occupation imposed on youth in the Gaza Strip, enable to them meet decision makers, and empower them to think outside the box to prepare them to be future leaders.
Director of Pal-Think, Omar Shaban, opened the session by welcoming Owcza and the attendees. He said that this session is aimed at giving youths the opportunity to meet international diplomats and discuss other countries' relations with Palestine.
He added, "Meeting diplomats and getting acquainted with their work is far more beneficial for youth than the university education which is solely focused on theoretical knowledge."
In his turn, representative Owcza started his talk by expressing how delighted he is to meet youth in the Gaza Strip, describing them as "inspiring and the youth of the future".
He said: "Our office is located in Ramallah and it is responsible for the relations with Palestinians in East Jerusalem, West Bank, and the Gaza Strip. Currently, we are the representatives of Germany. If Germany officially recognizes the state of Palestine, our office will become an embassy. However, we currently work as an embassy and we have various departments."
Owcza referred to the different departments of the office, including the one responsible for the Germans living and residing in Palestine and issuing visas and residence permits for Palestinians wishing to visit or study in Germany.
"Development cooperation and humanitarian aid departments are among our largest departments, through which we work with several parties to achieve long-term development objectives. We also have negotiations every two years on humanitarian aid and development projects with a total worth of 52 million euros annually. However, the priority goes to economic development and employment.
He emphasized that they have a special department intended for civil society and local government.
He also confirmed that water is one of their priorities as they provided finance for restarting the water treatment plant, and it was a very successful project among the activities of the development cooperation sector.
Owcza stated that the representative office is working on helping some factories and companies in raising the quality standards of their industries to obtain the "ISO 22000" certificate for easy access to the international markets. This is also part of the development cooperation section.
Regarding humanitarian aid, Owcza stated that Germany provides humanitarian aid when needed, pointing out that the largest organization working in this field is the UNRWA, which he described as a "state institution" because of the size of the services it provides and the fact that it has been established a long time ago.
He also confirmed that Germany is one of the primary supporters of UNRWA, especially after former US president Donald Trump cut his country's funding.
"Yesterday, we visited a project funded and supervised by Germany in Deir al-Balah refugee camp after the completion of its first stage which was the reconstruction of the infrastructure in a modern way, building streets, and providing 121 families with housing units surrounded by green areas, sports courts, and specialized areas for various social purposes and for markets."
On the political level, the German representative emphasized that their main political involvement is through multilateral conversations with the Palestinian Authority in a productive way that improves collaboration, and also through some forces in the legislative council.
"We have another department for political advocacy through political conversation to address important issues, especially those related to human rights violations. We are well aware that Israel is the occupying force and is a central force for any change. It is probably among the most crucial factors for change."
He confirmed that Germany has special relations with Israel because of its history, pointing out that all the German parties agree on the importance of having relations with Israel.
Owcza continued, "There is also the multilateral collaboration which is intended on uniting efforts to achieve greater effectiveness for the beneficiaries as we work with our partners who have the same objectives."
He indicated that they are treating some political issues such as the cancellation of the Palestinian elections last year, saying "we believe that now is the right time for the elections and their cancellation was disappointing."
He stated: "I recently asked them to be the head of the group working for the Palestinian authority's budget which needs treatment as it has not been treated till now. We are trying to encourage the responsible parties to treat it and we provide them with our suggestions. This is part of our political work."
He shed light on the department responsible for the press, which focuses on publishing everything about Germany so that Palestinians get to know his country. Moreover, there is a department for cooperation and a representative office in the German Academy for Exchange in East Jerusalem in addition to another department dealing with the protocols for welcoming important characters from Germany.
Regarding what is happening in Masafer Yatta village, he said: "The military administration there is using illegal ways to evacuate its residents. We are treating this politically, as we have been there in person and we showed our presence and sympathy. We are doing all of this with our partners."
He concluded by saying: "I do not know what it is like to be a youth in Gaza, but I am trying to listen to as many of you as I can. It is very difficult to imagine being a youth in the Gaza Strip."
The questions and interventions of the attendees revolved around several topics including Germany's treatment of the issues of youth in the Gaza Strip, cultural intervention objectives in Palestine, response to the Israel violations, response to settlements, and the political impact of youth in Germany.