---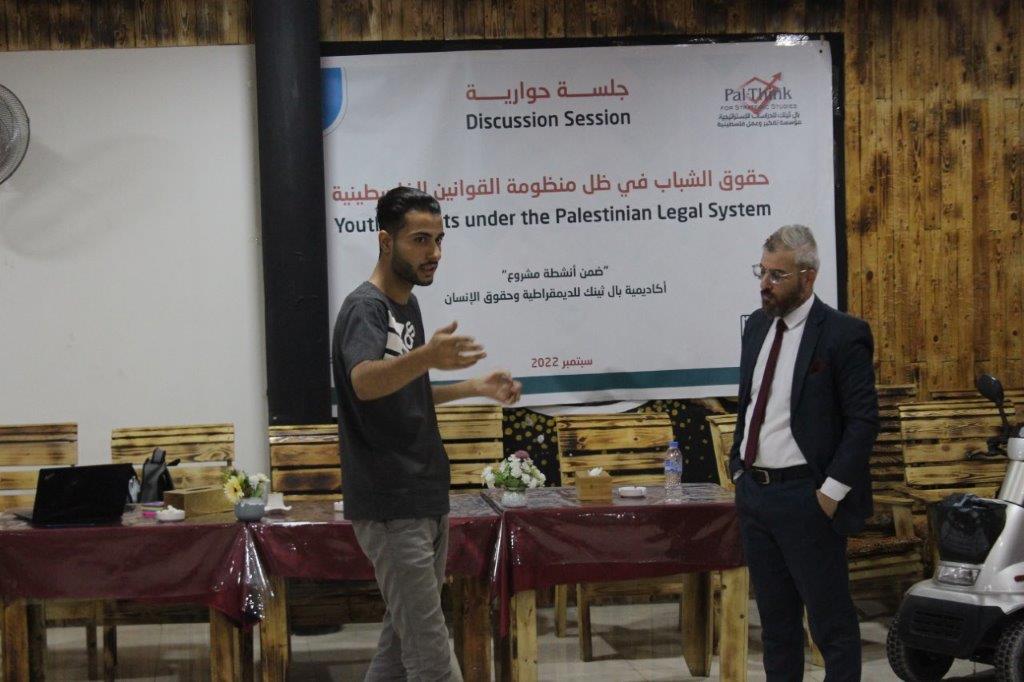 As part of its approach of discussion and dialogue on democracy and human rights issues, PalThink for Strategic Studies has organized a discussion session entitled "Youth's Rights under the Palestinian Laws System", which a number of young people and graduates attended in the Rafah Governorate. The session comes within the activities of the PalThink Academy for Democracy and Human Rights project, funded by the German ifa programme.
Bilal Al-Najjar, lawyer at PalThink, opened the session by welcoming the attendees and introducing PalThink, noting that it pays primary attention to the youth and continuously seeks to raise their awareness and develop their skills and abilities in various fields, through programs, projects, and activities.
The session was moderated by lawyer and rights activist Yahya Muhareb, who started his speech by defining human rights and outlining their generations, phases, and divisions. He stated that human rights are indivisible, whether they are civil, political, economic, social or cultural rights.
"Accordingly, they all have equal status as rights. There is no such thing as a small right, and there is no hierarchy for human rights," he said. "Young people face discrimination and barriers that hinder their enjoyment of their rights due to their age, which limits their potentials," he added.
The attendees made several valuable interventions. They stated that young people, including people with disabilities, face additional challenges and that age is one of other factors causing discrimination against youth, preventing many young people from enjoying equal opportunities and effective equality.