PalThink holds discussion session on 'Principles of Democracy and the Importance of Disseminating and Enhancing it Among Youth'
---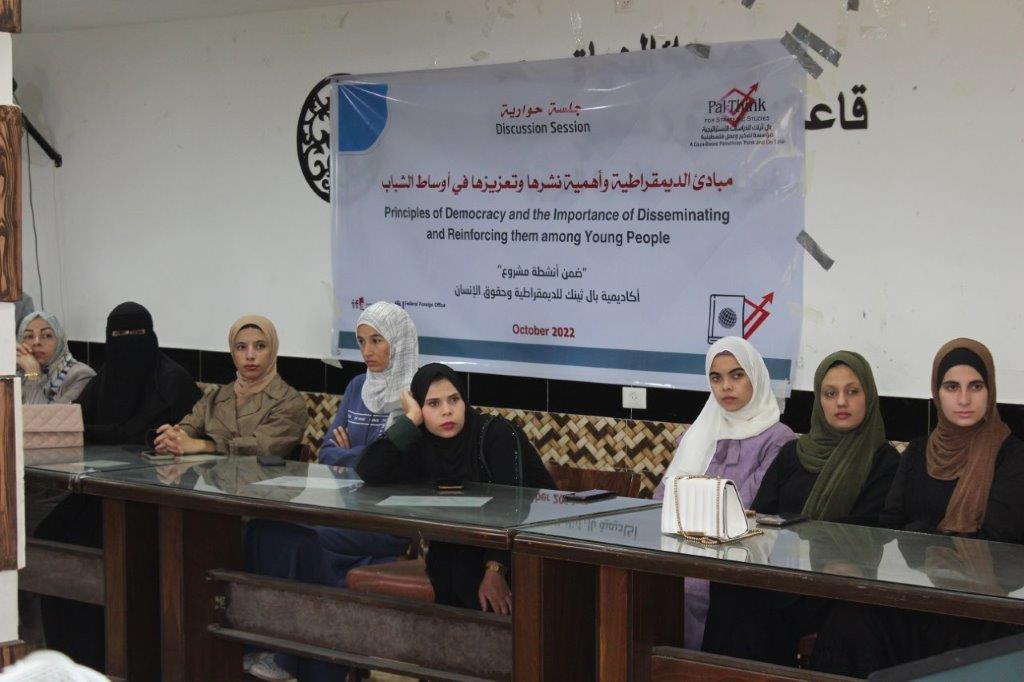 As part of a group of discussion sessions held in various regions of the Gaza Strip, PalThink for Strategic Studies conducted the fifth session entitled "Principles of Democracy and the Importance of Disseminating and Enhancing it Among Youth" east of Khan Yunis in partnership with the Al-Najat Charitable Association.
The session comes within the PalThink Academy for Democracy and Human Rights project, supported by the German Federal Foreign Office's funds by ifa (Institut für Auslandsbeziehungen) Funding Programme zivik.
The meeting was opened by Bilal Al-Najjar, a lawyer at PalThink, who welcomed the attendees and introduced PalThink and the project.
Dr. Alaa Hammouda facilitated the session, beginning with reviewing the objectives of the session and the topics to be discussed.
Hammouda screened a video about the basics of democracy, then he explained the concept of democracy, which is a social system that revolves around the value of the individual and his human dignity, and is based on the participation of the members of the group in deciding their fate.
He also explained that there is a direct relationship between the rights and freedoms of individuals and democracy and that the practice of democracy is one of the manifestations of protection and respect for the rights and freedoms of individuals.
Hammouda spoke about forms of democracy and the conditions that must be met for the success of any democratic process, including respect for human rights, political pluralism, the peaceful transfer of power, political equality, and the rule of law.
The attendees stated that Palestinian youth suffer marginalization and exclusion in all aspects of political life in light of the Palestinian political division and the high rates of poverty and unemployment, and this is what prompted many of them to emigrate, risking their lives, to escape their reality.
Some of the attendees also indicated that one of the reasons that made the Palestinian issue more complicated was the disruption of the electoral process, stressing the need to hold general elections (presidential, legislative, and municipal bodies) while ensuring that young people can reach decision-making centers.
The attendees stated that women also suffer exclusion, marginalization, and violence in the absence of any manifestation of democracy in Palestinian society, and all this requires unifying all official and unofficial efforts to improve the Palestinian reality and get out of the current crises.