---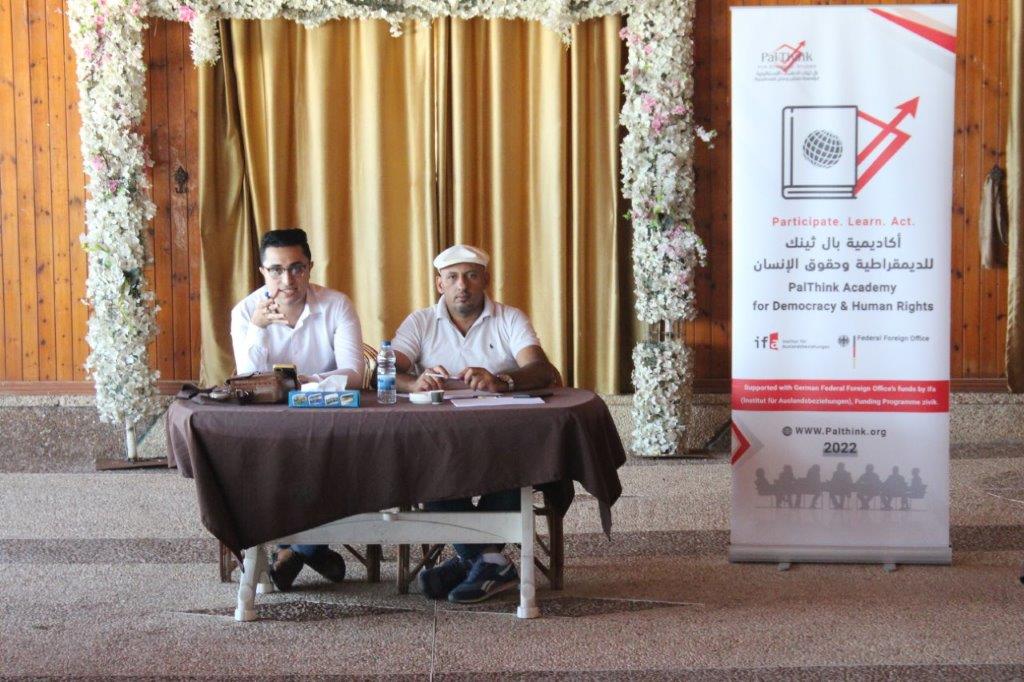 PalThink for Strategic Studies has held a panel session discussing a research paper entitled "Youths' Role in Reducing Hate Speech and Promoting Moderation" prepared by one of the Democracy and Youth Dialogue Forum members, as part of the PalThink Academy for Democracy and Human Rights project, implemented by PalThink in partnership with the German Institut für Auslandsbeziehungen (Institute for Foreign Cultural Relations, ifa).
In addition to a number of civil society institution workers in the central governorate of the Gaza Strip, 33 of the forum's members attended the session.
The session was opened by Yahya Qaoud, PalThink's political science and public policies researcher, who welcomed the participants before speaking about the role his institution has been playing since 2007 to end the division.
He added that PalThink tried to reduce the repercussions of the division, focusing on civil peace and social harmony in its programs and activities carried out in collaboration with many civil society institutions in the West Bank and Gaza Strip.
PalThink also launched many courses targeting youth of both sexes and other projects and initiatives promoting moderation, Qaoud said.
Ashraf Sukkar, the author of the paper, reviewed his work, which focused on the legal and conceptual aspects of hate speech. He touched on the steps that can reduce hate speech in Palestinian society, including producing anti-hate speech, starting pressure and advocacy campaigns, and forming youth groups to spread moderation and defend human rights.
Sukkar concluded his paper with a set of recommendations, the most prominent of which was the necessity of cooperation with news websites and social media pages, critical analysis of what is spread in news, and encouraging victims and witnesses to report crimes related to hate speech.
For their part, the attendees enriched the discussion by sharing ideas on the implications and repercussions of spreading hate speech in light of the existing political division and differences in Palestinian society.
The attendees touched on PalThink's distinguished role in community work and attention to youth issues, in addition to the role played by partisan media in promoting moderation and reducing hate speech when it is in their interest.
As for members of the Democracy and Youth Dialogue Forum, their interventions centered on the Islamic religion's rejection of incitement, and they called for confronting hate speech in Palestinian universities.
PalThink continues to hold meetings for members of the Democracy and Youth Dialogue Forum, one of the main activities of the PalThink Academy for Democracy and Human Rights project, which deals with all pressing youth issues in Palestinian society.